Jenna Rice was born in Maine and raised in Massachusetts and Rhode Island. "Basically, I'm from New England," she said. Now, Rice calls Greensboro, North Carolina home. She is a full-time street artist and spray-paint muralist. "You can find my work all over North Carolina and in other states such as Indiana and Florida," Rice added.
She cites her parents as major influences in her path to becoming an artist. "My dad worked for Hasbro when I was a kid. He used to hand-draw the package designs for the toys (before graphic design was a 'thing'), so I was exposed to some pretty amazing drawings at a very young age." Rice's mother introduced her to arts and crafts. "I tried all sorts of hands-on projects as a child. If it weren't for my artsy parents, I likely wouldn't be where I am today," she said.
Even with the exposure at an early age, Rice didn't imagine she would make a career out of her art. She changed majors in college three times before settling on art. She continued, "I was recruited to be an art major in my third year of college. That semester, I took a drawing class as an elective and was spotted by the Chair of the Department of Art and Art History, master oil painter, and painting professor, William Otremsky."
Rice "dabbled" with a variety of mediums early on during her art journey but focused on oil painting in college. I loved oil painting, yet I just didn't see a logical way that I could turn it into a full-time career. "Upon moving to Greensboro in 2015, the blossoming mural scene inspired me. I thought to myself, I can do that in oil paint… I wonder if I could do that in spray?"
Rice began watching how-to videos on YouTube focusing on spray painting. She added, "I realized there was true potential to make a full-time career out of this kind of mural painting. Spray painting was so much faster than other mediums I've used—practically the opposite of oil paint. I loved the idea of it, yet continued watching others paint for an entire year."
When she felt ready to tackle spray painting, Rice practiced on plyboard and cardboard. "It was a frustrating medium to learn on my own, but with the help of the internet and a few friends, I successfully figured it out and became a full-time artist a little over three years ago."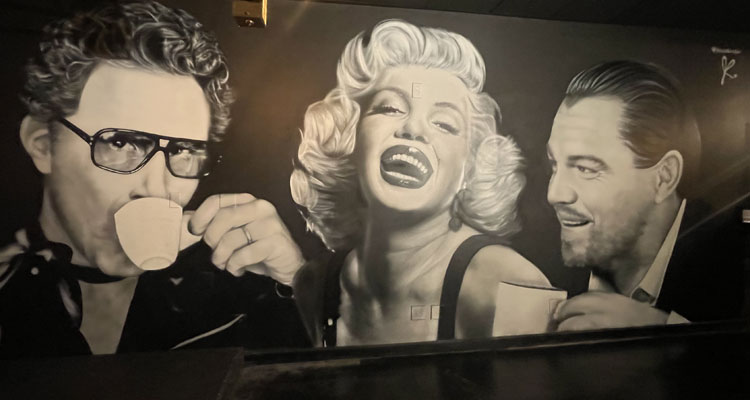 Rice approaches a new mural by creating a design on her iPad. "If it were up to me, every mural would include a portrait or some form of the human figure, as those are my favorite subjects to paint. Either way, I am careful to pay attention to the fundamentals of design while creating my work—balance, alignment, proximity, repetition, and contrast."
Rice, then, takes the initial design and scales it to the wall using the "doodle grid" method. "After the wall is properly cleaned and primed, I scribble random numbers, letters, and symbols all over the wall. Then, I take a photo of the wall with the scribbles and put it into my iPad." She uses the app Procreate to layer the design over the image of the wall. "I lower the design's opacity so I can see through it just enough to see the symbols. This way, I can scale my small design to the large wall and keep accurate proportions."
Most of Rice's work is commission-based. This can put a cap on her creative freedom. But she finds ways to express her creativity in the art. "The images I paint are carefully chosen based on composition and the fundamentals of design. I prefer to work with figurative images—anything with the human body fascinates me," she said. When an opportunity arises that brings more creative freedom, Rice chooses figurative photographs. "Sometimes, I take photos myself or hire a professional to take even better photographs for my work. I love to paint realism."
Rice soaks up inspiration from every artist and artwork she encounters. "I am always inspired by the beauty in nature and classical 17th century Baroque artworks by Caravaggio, Rembrandt, and Velazquez. I like to take their techniques and styles and create my own artwork with a modern-day twist." She wants people to take the same approach with her art. "I hope that viewers take in every detail and come up with their own interpretations of my work."
Rice sees her future being full of striking imagery and bold colors. "I hope to awe and motivate… my ultimate goal is to inspire millions of people all over the world."
Rice's murals can be viewed indoors and outdoors throughout Greensboro, Winston-Salem, Asheboro, High Point, and Eden, North Carolina. She also has pieces in Lakeland and Miami, Florida and Marion, Indiana.
To see a larger collection of Rice's work, visit her website www.jennariceart.com and on Instagram @jennariceart